A grey, winters afternoon was a surprisingly perfect backdrop for this stunning wedding.  With a colour palette of crisp white and black, satin accents, the décor stood out in magnificent contrast to the ombré sky.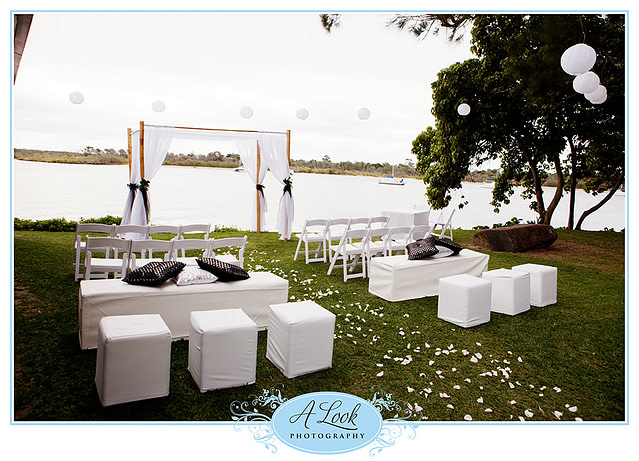 The ceremony was by the Noosa River next to Ricky's Riverbar and Restaurant, which is where the elegant reception followed.  As white lanterns swayed overhead, guests took their places on white chairs, ottomans and benched dotted with luxurious black and silver cushions.  A rose-petal scattered aisle lead the way to a stunning, sheer canopy where the Bride and Groom exchanged their nuptials, the water glistening behind them.
As the formalities ended, the celebrations began with chilled champagne on the lawn, before everyone moved in to the restaurant.  Inside, the contrasting colour scheme continued.  Dainty blooms of tulips filled rectangular vases which were placed on mirrors as the centrepiece for each table.  The linen napkins were adorned with black satin bows and guest name tags, and mood lighting was provided by collections of square tea lights.  A beautiful, vintage mirror with handwritten seating plan directed guests to the seats.
All of the styling and flowers were provided by the decorating team at First Class Functions.  Make sure you ask about how we can add a touch of glamour to your wedding at your next appointment!