Saturday the 6th of July was an incredible day.  The ochre sun was shining, the birds were singing and the ocean rolled effortlessly beneath the pale blue sky.  It was a perfect day to be at the beach.  It was also the perfect day for Damien and Catherine to tie the knot.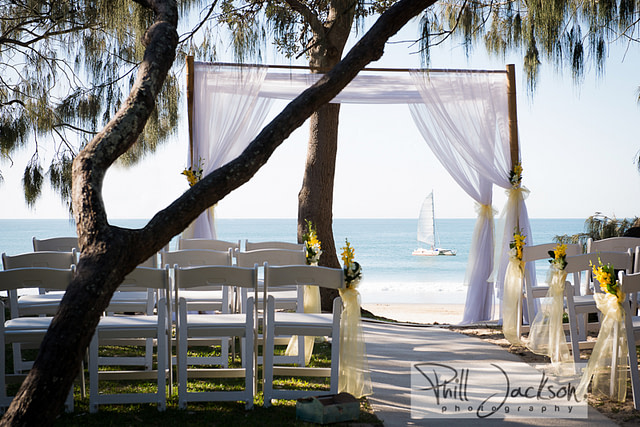 White timber chairs and a bamboo canopy were laid out under the shade of the beautiful Casuarina Trees for the ceremony at Noosa's aptly names Casuarina Gardens.  Golden orchid posies were tied to the aisle chairs with lemon, organza sashes and a soft, white carpet was placed on the sand for the aisle.  Mellow sounds from the acoustic guitar welcomed the bride, who carried a casual bouquet of Cymbidium and Singapore orchids styled by the florists at First Class Functions. To mark the occasion, the couple released beautiful amber coloured butterflies. After the ceremony,  guests relaxed and watched the boats sail by as they enjoyed refreshments and antipasto platters by the sea.
[Best_Wordpress_Gallery id="57" gal_title="Golden Season"]
Whilst the newlyweds posed for photos (by the incredibly talented photographer Phil Jackson), and as the sun began to set, guests made their way to the beachside Season Restaurant.  The tropical theme continued with yellow orchid centrepieces on bamboo frames and mellow candlelight to set the mood.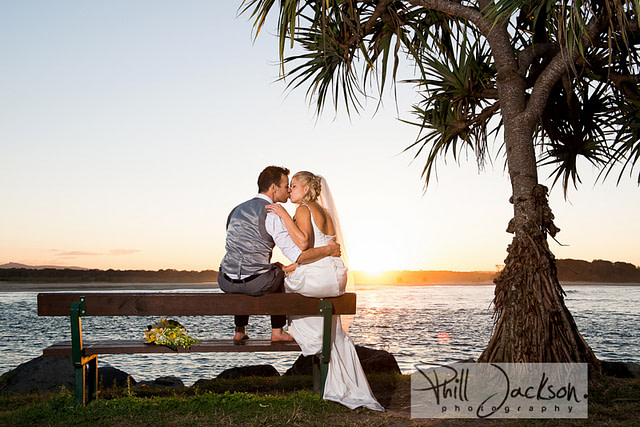 The flowers, styling and refreshments were provided by First Class Functions.  To add a golden touch to your special day, please contact the team at First Class Functions.  Thank you to Phil Jackson for providing the images for this post.